About us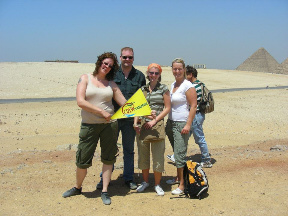 A chosen collection of tourism specialists established Crew Tours in 1999. Now, Crew Tours, the vast growing company, is spreading its wings across the globe. We are proud of our highly qualified, experienced staff and the quality of tourist services we offer. Crew Tours is classified grade A (the top), and is privately owned by its founders. Our services include; inbound, outgoing, domestic, safaris, leisure trips, medical, recreational, academic, diving, and adventure tours, all adhering international specification standards.
Caring about all details, providing lifetime memorable trips, meeting all our clients' expectations, assuring and fulfilling perfection is our mission at Crew Tours. Our qualified staff is our main asset. Our representatives, guides are there to assure the quality services we offer to our precious clients.

"Quality of products" is indispensable to customer satisfaction. We believe that the quality of our products is not that of tour packages we offer, but the quality of our employees. It is when our customers are satisfied with our employees' service that they decide to buy our travel products. In this sense, our employees are our resources.
Continually strive to achieve the best, just like us, you will find our itineraries meeting your expectations and within your time-frame and budget. We, at Crew Tours care for your desires with full attention to details; this is our key to enhance Crew Tours as one of the leading travel agencies.
Crew Tours is a member of ASTA (The American Society of Travel Agents), (ASTA) is the world's largest, most prestigious association of travel professionals with 26,500 members located in 170 countries around the world.
You are welcome to our lovely unique Egypt that has something for every client, wishing you a pleasant stay and assuring you of full confort and satisfaction.
Why Travel With Us

Some of the many reasons to travel with Crew Tours include:

Get more for your money.
Traveling is an investment, and we make sure you get the best value for your money. Our trips allow you to stretch your investment so that you can experience a wide variety of cultural, entertainment and recreational activities without any surprise charges.
We do all the work.
Convenience. Ease of travel. No hassle vacations. Every detail, from transportation and lodging to the finest dining and sightseeing activities, is pre-planned so that your trip is 100% worry-free. Your only job is to relax, learn and, most importantly, have fun!
Make new friends.
Traveling with us is a great way to stay connected with friends. More than half of our travelers are repeat travelers, meaning they trust Crew Tours and intend to see more with us.
Enjoy red-carpet treatment.
Quality, expertise and professionalism—that's what you get with Crew Tours.. Vacations come and go, but we make sure your trip memories last a lifetime.
Executive Team

Crew Tours employs over 10 people in the areas of sales, marketing, product development, product management and customer care. Each team member plays an integral role in the overall success of the company. Crew Tours executive team shares a common vision to lead the travel industry into the 21st Century with superior products and customer service.
With a combination of over 8 years experience in the special interest travel business, we have a sincere desire and the vast experience to put together the experience of a lifetime for our clients. With a professional approach to developing quality tours, and by regularly traveling to our destinations, we are able to offer programs of exceptional value.